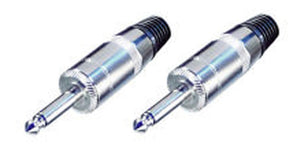 (2 PACK) REAN NYS225L Jumbo 1/4" Cable Mount Connector w/ 8mm Cable Inlet
Commercial wide-body 1/4" mono phone plug designed specifically for use with heavy-gauge speaker wire. Features machined turned brass construction, a larger-than-typical crimp cable clamp, a larger cable outlet, rubber bushing, and oversized solder tabs that accept up to 12 gauge wire.
 Based on long-time know-how audio and video connectors for professional applications are developed and produced on up to date production facilities. An efficient logistics system and a global sales network make a high availability and short delivery times possible. The REAN product range is an alternative solution for cost sensitive applications.
* REAN IS OWNED AND DISTRIBUTED BY NEUTRIK AG
When You Think of Neutrik
usbargainsound
We Are The Connector People!