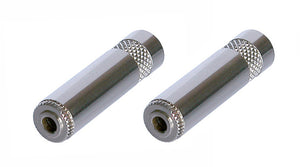 (2 Pack)  Brand New Genuine Neutrik Rean (NYS240L)  3-Pole 3.5mm (1/8 Inch) Enlarged Stereo Cable Extension Jack TRS Female with Metal Handle.
Accepts Cable up to 6mm (.24")   Professional 3.5mm (1/8") cable jack for in-line extension connections.   Requires Solder Termination on one end.
Female inline jack with crimp strain relief.
Accepts cable up to 4.3mm OD.
Can be wired for stereo, mono or balanced mono applications. 
When You Think of Neutrik
usbargainsound
We Are The Connector People!
20-40