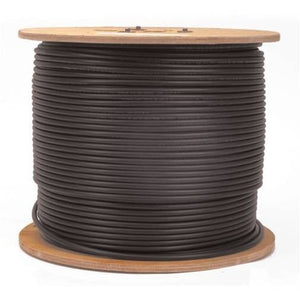 (One) Brand New Genuine Rapco Horizon ProCo 1000' Spool of American Made 22 Gauge Balanced Installation Grade Microphone Cable
Item Is Shipped In An Easy To Use Pull Box
This item Ships The Next Business Day Direct From Either Rapco's Facitlity in Jackson Missouri (Southeast Missouri) Our From Their Texas Facility.  They Will Ship From Whichever Plant Gets You Your Product The Quickest.  Transit Times Varies From 1-5 Business Days, Depending On Your Location With Respect To The Origin Shipment.
Wire Specifications
Description: 
2 conductor 22 AWG stranded bare copper, polypropylene insulated, shielded, PVC jacketed installation microphone cable VTG
Part Number: MIC2. 
1. Conductor 
 1.1 AWG Size and Stranding: 22 AWG 7 strands 30 AWG 1.2 Material: Bare annealed copper
 2. Insulation 
 2.1 Material: Polpropylene 
 2.2 Wall Thickness: .008" nominal
 2.3 Diameter: .046" nominal 
3. Color Code 
 3.1 Code: Black and red 
4. Assembly
 4.1 Assembly: Conductors cabled left hand lay
 4.2 Drain Wire: 24 AWG 7/32 tinned copper 
 4.3 Shield: .001" aluminum/polyester tape 
5. Jacket
 5.1 Material: Polyvinyl chloride 
 5.2 Colors: Black, gray, green, pink, brown, orange, purple, red, white and yellow 
 5.3 Wall Thickness: .023" nominal 
 5.4 Diameter: .140" 
6. Markings 
 6.1 Type: Surface printing in white ink on black jacket, black in on all colors. Black print has sequential footage marks 
 6.2 Legend: VTG AUDIO 22 AWG TYPE CL3 (UL) E156866 – MADE IN U.S.A. XXXXX FEET 
7 Electrical Specifications 
 7.1 Capacitance Between Conductors: 32 pF/ft @ 1 kHz 
 7.2 Capacitance Conductor to Shield: 58 pF/ft @ 1 kHz 
 7.3 Characteristic Impedance: 45 ohms @ 1 MHz 
 7.4 Resistance at 20C: 15.3 ohms/1000 ft.  
For quantity discounts and better selections, please visit the usbargainsound eBay store.
When You Think of Cables
usbargainsound
We Are The Sound People!