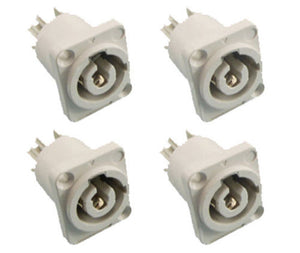 (4)  Brand New Genuine ProCraft PC-TSC045 Panel Mount Power Out Connector -Neutrik Powercon Alternative
Air tight chassis connector, B-type for power-out, flat tab terminals. A new design incorporates a firm fixation/attachment by locking latch to avoid accidental separation of the rear cover from the front housing.
PowerCon is a lockable 3 pole equipment (AC) connector with contacts for line, neutral, and premating safety grounds.  Color coded for easy identification, power-in (blue) and power-out (grey) versions with different keying to avoid the possibility of intermating. The contacts are designed to prevent damage from arcing when disconnected while under load.
When You Think of Procraft
usbargainsound
We Are The Connector People