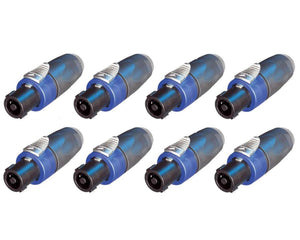 (8 Pack)  Brand New Genuine Neutrik NA4LJX Speakon Connector Adapter Speakon to 1/4 Jack...
speakON NL4FC - 1/4'' mono jack adapter
Wiring: +1 to TIP and -1 to SLEEVE
Keep Your 1/4' Cables! This clever adapter lets you connect to any power amp or speaker cabinet that has a Speakon jack, without cutting off the ends of your 1/4' cables to rewire them. Simply slip the 1/4' end onto your speaker cable and the Speakon (4-pole) end can be plugged into the amp or cabinet. Adapts from NL4FC to 1/4 Inch 2-pole jack, wiring: +1 to TIP and -1 to SLEEVE. The new SPX-Series Speakon Adaptor NA4LJX replaces the NA4LJ. The improved design is more rugged and the rated current has been increased to 20 A.
When You Think of Neutrik
usbargainsound
We Are The Connector People!
20-40