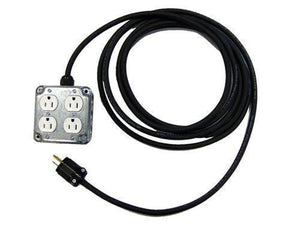 CBI's QB-M-50 is a 50' 12/3 SJ Cable Hardwired to a Steel Quad Box with 2)20 Amp Edison Receptacles (4 outlets)
* PLEASE NOTE: The picture attached is a stock photo and does not show the actual length of this cable.
CBI's Quad Box AC power cables are built to the highest standards.  Prewired for 20 amp service with 12 Gauge Black SJOOW wire. Only the best Leviton parts used for performance and durability
 MADE IN THE USA !
Features
Cast Steel 4 outlet stage box with 2) 20A Duplex receptacles

12/3 SJ heavy duty rubber-coated power cable

Terminated in high impact receptacles
When You Think of Music
usbargainsound
We Are The Sound People!