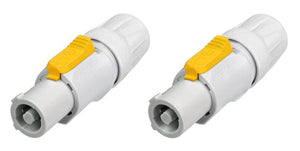 (2 Pack) Brand New Geniune Neutrik NAC3FCB Powercon Cable End Power Out Connectors  [Gray]

Cable connector, quick lock with securing lever, B-type for power-out, screw terminals. PowerCon is a lockable 3 pole equipment (AC) connector with contacts for line, neutral, and premating safety grounds. It is rated at 20A/250V ac. Color coded for easy identification, PowerCon(tm) offers power-in (blue) and power-out (grey) versions with different keying to avoid the possibility of intermating. The contacts are designed to prevent damage from arcing when disconnected while under load. Chuck style type cable strain relief.
When You Think of Neutrik
usbargainsound
We Are The Connector People!
30-60