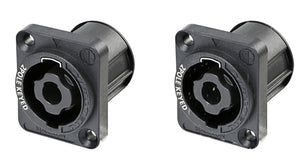 (2 PACK) NEUTRIK NL2MPXX 2-Pole SPEAKON Panel Mount Twist Lock w/ 3/16" Flat Tabs
2-Pole Speakon Receptacle with Faston or Solder Tabs 2 pole chassis connector, black D-size flange, countersunk thru holes, 3/16" flat tabs.
* Does not intermate with the NL4FC 4-pole cable connector !!
The state-of-the-art chassis connector for loudspeaker / amplifier applications. They feature a unique locking system, robust plastic housing and high current silver plated contacts.
Features & Benefits
Current rating 30 A rms
Glass reinforced materials make it extremely robust and dependable
Precise keyway for secure mating
Accurate twist lock latching system
Metal insert in locking area
Airtight design - optimized for speaker applications 
When You Think of Neutrik
usbargainsound
We Are The Connector People!