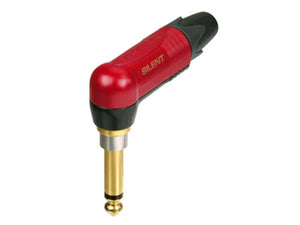 Neutrik NP2RX-AU-SILENT Right Angle 1/4" 2 Pole Professional Phone Plug with Gold Contacts and Red Shell
Special version of 2 pole plug with integrated switch which automatically mutes (shorts) a guitar cable to avoid annoying pops and squeals when hot swapping guitards. The integrated silent switch is based on the REED technology and guarantees a lifetime beyond 10'000 mating cycles.
Features & Benefits
Hermetically sealed and magnetically operated switch
No wear, constant contact resistance
No corrosion or pollution of switch, durable and long-lasting
Lifetime beyond 10'000 mating cycles 
When You Think of Neutrik   
 usbargainsound
We Are The Connector People!