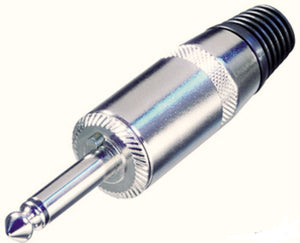 REAN NYS225S Jumbo 1/4" SILENT Cable Mount Connector w/ Integrated Switch
* Please Note: The

 

tip is shunted the

 

to ground if not inserted (silent)
The NYS225S is a wide-body JUMBO 1/4" mono (2 -Pole) Phone Plug Designed Specifically for use with Large Diameter Instrument or Speaker Cable up to 8mm.
Features machined turned brass construction, a larger-than-typical crimp cable clamp, a larger cable outlet, rubber bushing, and oversized solder tabs that accept up to 12 gauge wire.

* REAN IS OWNED AND DISTRIBUTED BY NEUTRIK AG
Excellent cost-performance ratio, attractive design, and reliable functionality are the strengths of REAN.
US BARGAIN SOUND
YOUR ONLINE CONNECTION FOR IN-STOCK CONNECTORS