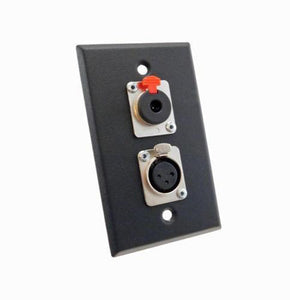 (1) PROCRAFT SPL-1XF1LQ-BK 1 Gang Black Steel Wall Plate Loaded w/1) XLRF 1) 1/4"
* all connectors are solder type unless specified otherwise
* Procraft Stainless steel wall plates include matching mounting screws
All ProCraft Wall Plates are Commercial Quality Stainless Steel. 
Punched, Powder Coated and Loaded at Our Modern Facility in Jackson, Missouri.
MADE IN AMERICA
usbargainsound...We Are The Wall Plate People!