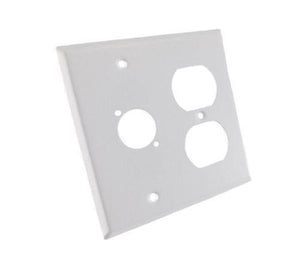 (One) Brand New Genuine White Stainless steel wall plates punched for one duplex AC connector, and 1 "D" style xlr mounting hole(mounting screws included).  This unique design allows you to run your power and sound from one location. 
All ProCraft Wall Plates are Commercial Quality Stainless Steel.  Punched,
Powder Coated and Loaded at Our Modern Facility in Jackson, Missouri.
MADE IN AMERICA
usbargainsound...We Are The Wall Plate People!