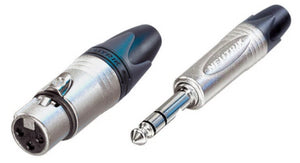 (1 PAIR) Brand New Genuine Neutrik NP3X 1/4in 3-Conductor Phone Plug Nickel Contacts Nickel Shell & Neutrik NC3FXX 3 Pin Female XLR Mic Cable Connector Nickel Housing Silver 
NP3X
The X series heavy duty professional phone plug improves on the design of the existing C series by offering the thinnest available A-gauge 1/4" plug with unique Neutrik chuck type strain relief on the market. The slimline shell with a width of 14.5 mm meets the most recent requirements for highest density jackfields (15.88mm jack pitch). The precise machined one-piece tip contact without rivets makes it unique and avoids hook up in a socket or break off the tip. The X Series serves all applications such as guitar applications, audio cables, snakes, speakers, amplifiers and mixing desks.
NC3FXX
The next generation of the worldwide accepted standard of XLR cable connectors. The successor of the X series offers several new features which make it more reliable, easier to assemble and improves contact integrity as well cable strain relief
Tech Note : Do not assemble XX connectors without the cable installed. This will cause the pressure chuck to tighten and disassembly will be extremely difficult.
When You Think of Neutrik
usbargainsound
We Are The Connector People!