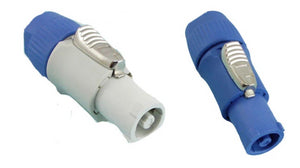 (1 EACH) PROCRAFT PC-TSC039 & PC-TSC044 20A Power-In Blue/ Power-Out Gray Cable Mount
* Mates with ALL Genuine Neutrik Blue and Gray Powercon
These Power Cable connectors are quick locking with a securing lever for power-out & power-in. Cable leads connect with screw terminals. PROCRAFT PowerCon style connectors are lockable 3 pole equipment (AC) connectors with contacts for line, neutral, and premating safety grounds. They are rated at 20A/250V AC and Color coded for easy identification.
PROCRAFT offers power-in (blue) and power-out (grey) versions with different keying to avoid the possibility of intermating. The contacts are designed to prevent damage from arcing when disconnected while under load. 
usbargainsound
We Are The Connector People!