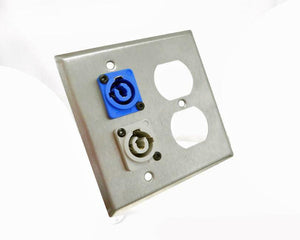 (One) Brand New Genuine Stainless steel wall plate punched for one duplex AC connector, and loaded with 1 Neutrik NAC3MPA-1 (Power In Blue) and 1 NAC3MPB-1(Power Out Gray).  We leave the AC receptacle out so you can choose the style and color that best suits the job.
All ProCraft Wall Plates are Commercial Quality Stainless Steel.  Punched,
Powder Coated and Loaded at Our Modern Facility in Jackson, Missouri.
MADE IN AMERICA
usbargainsound...We Are The Wall Plate People!