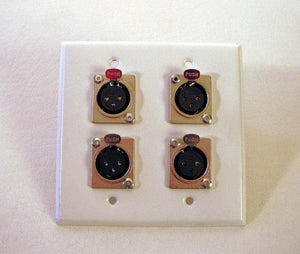 (1) PROCRAFT DPL-4XF-WH 2 Gang White Steel Wall Plate Loaded w/ 4) XLR Female 
ProCraft Stainless steel wall plates punched and loaded with the connectors you need for your installation (mounting screws included). As with all of our metal products, custom configurations are no problem. We also offer a wide variety of powder coated colors so your installations will be suitable for any décor. Please contact us for your custom needs.

To view powder coating colors available and quantity pricing, Google search 'usbargainsound'
All ProCraft Stainless Steel Wall Plates are Punched, Powder Coated and Loaded at Our Modern Facility in Jackson, Missouri.
MADE IN AMERICA
usbargainsound...We Are The Wall Plate People!