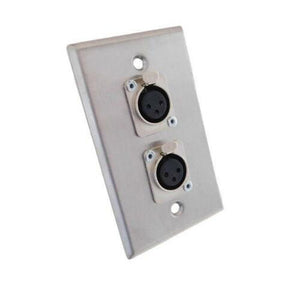 (1) PROCRAFT SPL-2XF-SS 1 Gang Stainless Steel Wall Plate Loaded with 2 Female Solder Type XLR Connectors
 ProCraft Stainless Steel wall plates punched and loaded with the connectors you need for your installation (mounting screws included). 
Loaded with 2 Channels That Can Be Customized To Your Specific Needs. 
Please See The List Below For All The Available Options.  

*If you do not specify the configurations you would like you will be sent the item as it is pictured
This item is pictured with and 2 XLR Females.

Please message us with any custom configurations, listing them from left to right starting at the top row.
You can use the abbreviations that are located next to your connector options.
Available options

XLR Female = XF

XLR Male = XM

Speakon = SPK

Speakon/1/4" Combo=SPQ
Stereo Locking 1/4" = LQ
Power In(Blue)=PI
Power Out(Grey)=PO