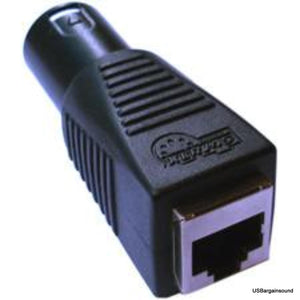 (One) Brand New Genuine TecNec DMX-5XM-CAT5 5-pin XLR Male to RJ45 Adapter
XLRJ45 is an adapter to convert a DMX512 5 pin XLR connector to a RJ45 connector. The XLRJ45 adapter makes it possible to use any CAT-5 ethernet cable as a DMX512 cable. The different adapters can be mixed to make for example a 5-pin to 3-pin cable. XLRJ45 is very useful for making a DMX512 cable quickly and at a very low cost.
For quantity discounts and better selections, please visit the usbargainsound eBay store.
When You Think of Music
usbargainsound
We Are The Sound People!